Enclosures 2
----------------------------------------------------------------------------
Bill Direen
190 pp, soft cover
$(NZ)24.95
ISBN 979-10-91280-04-4
Terms of trade for NZ bookshops: S or R
R.R.P. (NZ) is $24.95
Wholesale to retailers: $14.95
Postage is included in the prices.
A collection of fiction, poetry, diary, utopia and zootopia, Enclosures 2 is another in a series of emblematic cross-genre novels.
The enclosures are partitions of real and imaginary places, in this volume we find a basement recording studio or an anatomical surface
that might also be geographical. The enclosures are also (cross-)sections of writing.
Cut-ups of going between Europe, Australia and New Zealand) coexist with sections of a destroyed novel (sequel to Jules, 2003)
or a poem written at the time of a family bereavement. You will find here a utopian vision of Direen's home town, Christchurch, post-quake,
following hard upon a poisoner's auditory hallucination of an unclassifiable music album.
The partitions of Enclosures 2 take place in France, Germany, Australia and New Zealand,
in an imaginary future, in a poem, and on a (possibly human) surface.
Enclosures2 continues a cross-genre approach favoured in the early novel Nusquama/Utopia Rag, and used in pure form in Enclosures 1(2008). The opening section 'Europe, New Zealand', contains entries from two decades of living in, and of going between, Europe and New Zealand. It also has surviving parts of a destroyed sequel to Jules (2003).
Enclosures 2 spreads the net wide, searching for valid sources while pushing at the limits of genres.
REVIEWS
Simon Sweetman
Erik Kennedy
Lindsay Rabbitt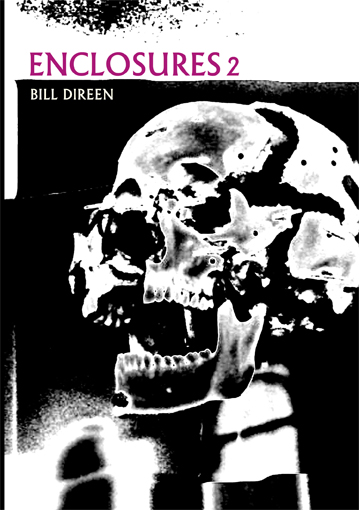 Bill lives in Dunedin, New Zealand.
The Enclosures novels are set in isolated biospheres real or unreal,
intimate, stable, volatile ....