Enclosures 3
----------------------------------------------------------------------------
Bill Direen
125 pp, soft cover

$(NZ)20
(+ p&p, personalised on request, $4)
ISBN 979-10-91280-04-4
R.R.P. (NZ) is $24.95
Terms of trade for retailers is Consignment (3 months) or Firm Sale (preferred)
A further collection of fiction, diary and experimental prose with another chapter from self-shaping Stoat.
The enclosures are sections, often cross-sections of writing.
Enclosures3 is made up of travel diary in the south of France, a crime story told in unpunctuated prose,
a patient diary kept during a difficult 48 week treatment and an experimental essay on the word tattoo.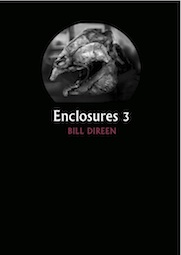 The 'enclosures' may be isolated bio- or necro-spheres real or unreal.
They may be writing itself, fiction, diary, experimental prose or autobiography.