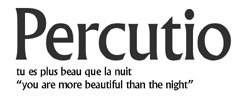 Sound Files (Current: Geoff Harrington, Untitled, Brief Music Issue )
Readings by contributors to Percutio 2014
Arno Loeffler reads a Swabian translation of his story Dia luschdige Achd ('The Merry Eight', published in English in Percutio 2010).
David Lyndon Brown: reading from Marked Men with backing music.
Scott Hamilton reading from To the Moon in Seven Easy Steps (recorded in Dunedin w. Stuart Porter (perc.) & Bill Direen (bass)) --Extract-- the full recording is on BRIEF 36 CD.
Richard Taylor The Bright Revolve, Gareth Farr's 'Wasp Factory', The Things Smiling.
Richard von Sturmer reading After Arp (chosen for audio project, Best NZ Poems of 2008, International Institute of Modern Letters, Wellington)
Jack Ross reading 'Cat' from EMO (backing music Padmanabha Fischlinger)
Alistair Paterson on Olivia Macassey at the launch of Love in the Age of Mechanical Reproduction (poetry, 2005)
Will Christie reading 'Mindnight'
Olwyn Stewart reading from Curriculum Vitae with backing music by Aural Disclosure/C.Fish.
Mike Johnson reading Singing the Blues on Mt Hua from the Titus Books publication The Vertical Harp, poems of Li He (Mike's own "versions", 2007). A few more of these poems may be listened to on (nzepc) http://www.nzepc.auckland.ac.nz/seeingvoices/johnson.asp
Stephen Oliver reading "The Astronomer" first published in 'Either Side The Horizon' (2005), released at top recording quality through Interactive Digital, Brisbane, 2007.
Olivia Macassey -- try Olivia's own site for her voice recordings.
Will Christie reading Views are from where you are, Mind Night and Faith.
Gabriel White interviewing Richard von Sturmer.
Scott Hamilton interviews William Direen for The Depot Artspace.
Scott Hamilton on Kendrick Smithyman (Radio New Zealand).
Gabriel White talks to Jack Ross about his REM trilogy (Part One)
Gabriel White talks to Jack Ross about his REM trilogy (Part Two)
Carol Woodward (Soluble Fish, 1987) The Woman and the Car . Download the text as eBook.