Enclosures 4
----------------------------------------------------------------------------
Bill Direen
86 pp, soft cover
$(NZ)20
(+ p&p, personalised on request, $4)
or from author at performances/readings
or from selected libraries and selected bookshops
More info on all Enclosures (pdf 1MB)
Enclosures 4 contains
folk tale
creative essay
a plan for a theatre in mourning
mathematical despair
some thoughts on drainage in the Netherlands (and Breughel)
lyrics from recent text-music recordings with Wellington trio Ferocious
the last instalments of a fragmentary novel about Dunedin denizen Robert Stoat.
Any of the Enclosures books or sections within books 1 to 4 may be read independently.
The little Enclosures enclose selected writings, but each has its preoccupations.
Enclosures 4, the last of the series, is concerned with
voicing and liberation in the focus media of cinema,
theatre and the visual arts, through sound and silence,
in darkness and in light.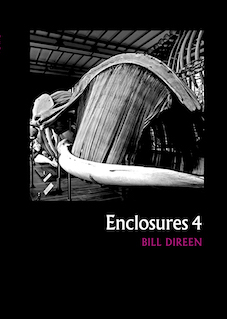 The 'enclosures' are set in isolated bio- or necro-spheres real or unreal.
They may be micro-fictions, diary, experimental prose or stand-alone novellas.