Open Access Essays Sound Files/Readings Auto-/Fiction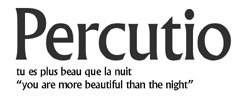 A trans-cultural literary periodical.
Percutio features poetry, essays, notebook entries, reviews, critical studies and images.
Wherever possible, work is published in its language of creation.
Translations into English are encouraged.
Percutio is edited by writer and musician William Direen.
A yearly magazine published out of Paris, France, and dedicated to the work that bridges cultures.
View the pilot issue (without images) free of charge here.
View the contents lists and editorials of past issues here.

2015 Cover image : David Mackenzie