Open Access Essays Sound Files/Readings Fiction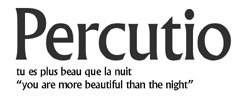 Percutio is published out of Paris, France,
and Dunedin, New Zealand
Percutio (est. 2006) features poetry, essays, extracts from novels, motivation and journal entries
in the language of creation and (where possible) in English.
Percutio is edited by New Zealand writer and sometime musician William Direen.
View the pilot issue Nr. 0 (without images) free of charge here.
View the contents lists and editorials of past issues here.
Download past issues
Format: Adobe
Suitable devices: Tablet PCs, PCs, Macs, Laptops

Cover image: Vanuatu mask (probably Malakula)
Courtesy of Otago Museum, Dunedin.